I was delighted to be part of a beautiful Christmas pop up shop at Fumbally Exchange (5 Dame Lane, Dublin 2).
A group of about 20 fellow fumballiers got together and ran the shop for a month before the Christmas and had various events throughout such as meet the maker and whiskey and chocolate tasting sessions. Oisín MacManus is a super talented interior designer (check out her website –  Ollas Design) and came up with the concept for FROST, and designed the interior of the space to make it feel like a relaxed, gallery, experience – perfect to show off the work! It turns out I really love working in a shop – but maybe it was easy when I had so many nice customers and I was already passionate about the things for sale :)
I sold limited edition framed prints along with my Naturama and My Naturama Nature Journal books (signed by me and the author, Michael Fewer).
Thanks so much to everyone who visited, especially everyone who came in for their pocket portrait!! I drew about 70 over a few days just before Christmas.
I've a selection here.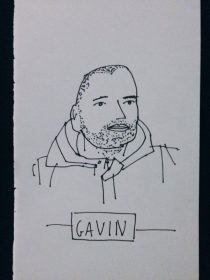 Related Reading:
Pocket Portraits at Frost Fumbally
Naturama exhibition at Íontas Arts Centre
Naturama Exhibition at Bí Urban, Stoneybatter, Dublin
Culture Night 2017 at Bí Urban
Fumbally Day Out-Damn Fine Print
Transformation Exhibition in Fumbally Exchange
The President of Ireland launched Fumbally Exchange