Naturama exhibition at Íontas Arts Centre, Castleblayney, Monaghan, March 31st – May 25th 2017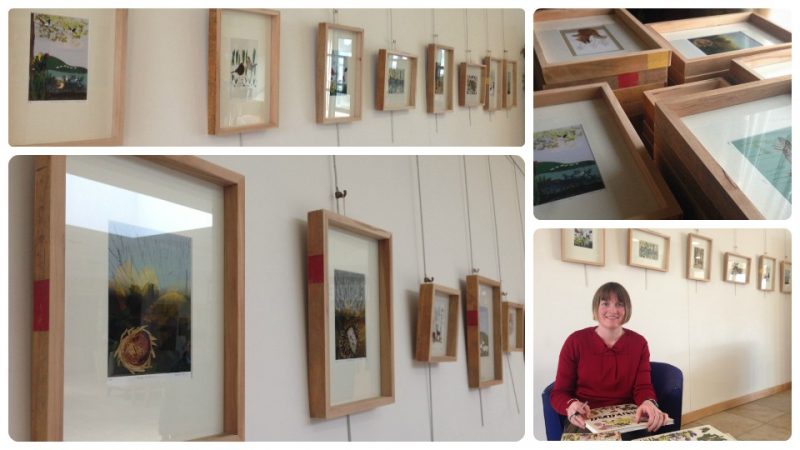 I had a solo exhibition at Íontas Arts Centre Castleblayney, Monaghan, from March 31st to May 25th 2017.
The illustrations were all from Naturama. I had to pick 32 from the book (there are 84 in total) and they are all my favourites of course!- but I love the selection I made, and I hope all the visitors liked them too.
Thanks to everyone who came to see the exhibition, and special thanks to everyone who bought a piece – Monaghan is now the Naturama print capital of Ireland!!
It must be the time of year, but my heart swells the most when I look at the bluebell forest one, so I have to call it my current fav :)
The reclaimed maple wood frames are by Rocker Lane Workshop, and I got my limited edition archival prints made at The Copper House in Dublin.
Upcoming events:
June 3rd: Bloom Fringe Sketch Walk in Dublin city, at 11am,  book here.
June 22nd: Naturama exhibition at Bí Urban, 7 Manor Street, Stoneybatter, Dublin 7 – opening night June 22 from 7pm, and the exhibition runs for 2 weeks.
June 25th: Body and Soul,  Naturama talk at the Positive Energy Stage from 1pm, followed by art workshop at the Air Stage from 2pm.
July 21st: Nature Drawing Workshop in Leighlinsbridge, Carlow, as part of the Carlow Garden Festival, book here.
August 22nd: Nature Journal Workshop for 8-12 year olds at Christchurch Cathedral Dublin, as part of Heritage Week, more details to follwow.
September 16th/17th: Digital Illustration workshop in Fumbally Exchange, Dublin, early bird offer if you book before August 1st,  book here.
Related Reading:
Embroidery Workshop with Sarah K Benning