Children's Workshops
I love working with children and my wish is for everyone to be themselves and express themselves as fully as they can through their art and have loads of fun doing it! I encourage independent thinking so that children can gain confidence in their own talents and learn to trust their instincts.
Last summer I completed training for the Teacher Artist Partnership (TAP+) scheme, organised by Donegal Education Board and I am taking part in three artist residencies in primary schools as a result. Two are with the TAP+ scheme and one is with BLAST (Bringing Live Arts to Students and Teachers). Each project has a basis in nature but some are more focused on mapmaking and documenting, others on imaginative storytelling for example. I'm getting so much energy from hanging out with the children, they are really fun to work with.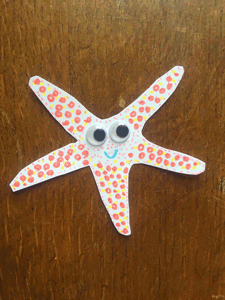 February 2023- Dalkey School Project nature drawing workshop
Back in the classroom for the first time in ages :) I had a wonderful visit to The Dalkey School Project where everyone made a drawing inspired by the natural world. Starting with a drawing of a tree, everyone created a new world around it, little by little. The idea was to feel your way into the drawing instead of planning it all out in advance. As you relax into it you end up with surprise ideas that you might have missed if you made a rigid plan at the beginning. The children were from 1st and 2nd class so were full of ideas and jumped into the creative flow pretty quickly. We ended up with unique and beautiful drawings, full of energy. Every picture told a story. Some people needed giraffes in their world, others kept closer to home with foxes and hedgehogs. Snakes were surprisingly popular! It was so nice to meet everyone and hear all their stories about pets, trips to the zoo, and encounters with wild animals!
June 2022- Primary Schools in the Dún Laoghaire Rathdown area (online)
I did a series of workshops over a few days with primary schools in the Dún Laoghaire Rathdown area to celebrate the launch of two Naturama Scéal Trails (Story Trails) in Dublin – one in Cabinteely Park, and the other at the Pavillion building where the Library is based in Dún Laoghaire. We made nature drawings for an hour at a time and had loads of fun!
Photo by Peter Cavanagh, May 2022
March 2020- Kaleidoscope Festival Home Club (online)
Kaleidoscope Festival have organised lots of activities for all the children stuck at home with no school. I was invited to take part with a one minute how to make a paper fish. I had my niece and nephew to help me practice at home. Watch the video here.
You will need some paper, scissors, colours, glue, sellotape, some thread, and googly eyes if you have them.
You can use a glass as your guide to make eight circles. Cut them out and decorate them. Then fold each circle in half, with the decorated side facing inwards. Glue the first four back to back and then stick the thread in the middle with the sellotape.
Next we will draw out a mouth, two fins, and a tail – cut out a bit extra at the side so that we can paste the extra piece to the paper.
Then glue the remaining four circles over the gap and we can now add the googly eyes, or else draw on some eyes.
August 2019 – Wexford Library
I led two parent/child art workshops in Wexford Library last weekend for two different age groups. We used very simple techniques and everyone went home feeling very chilled out and proud of their beautiful creations.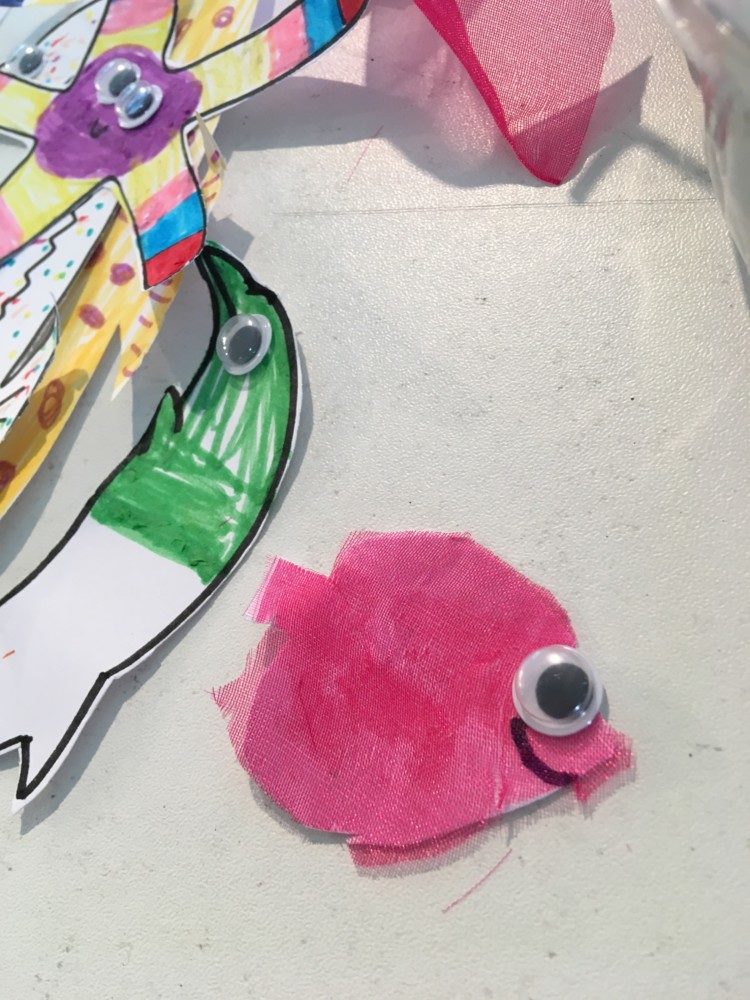 June 2019 – Kaleidoscope Festival, Wicklow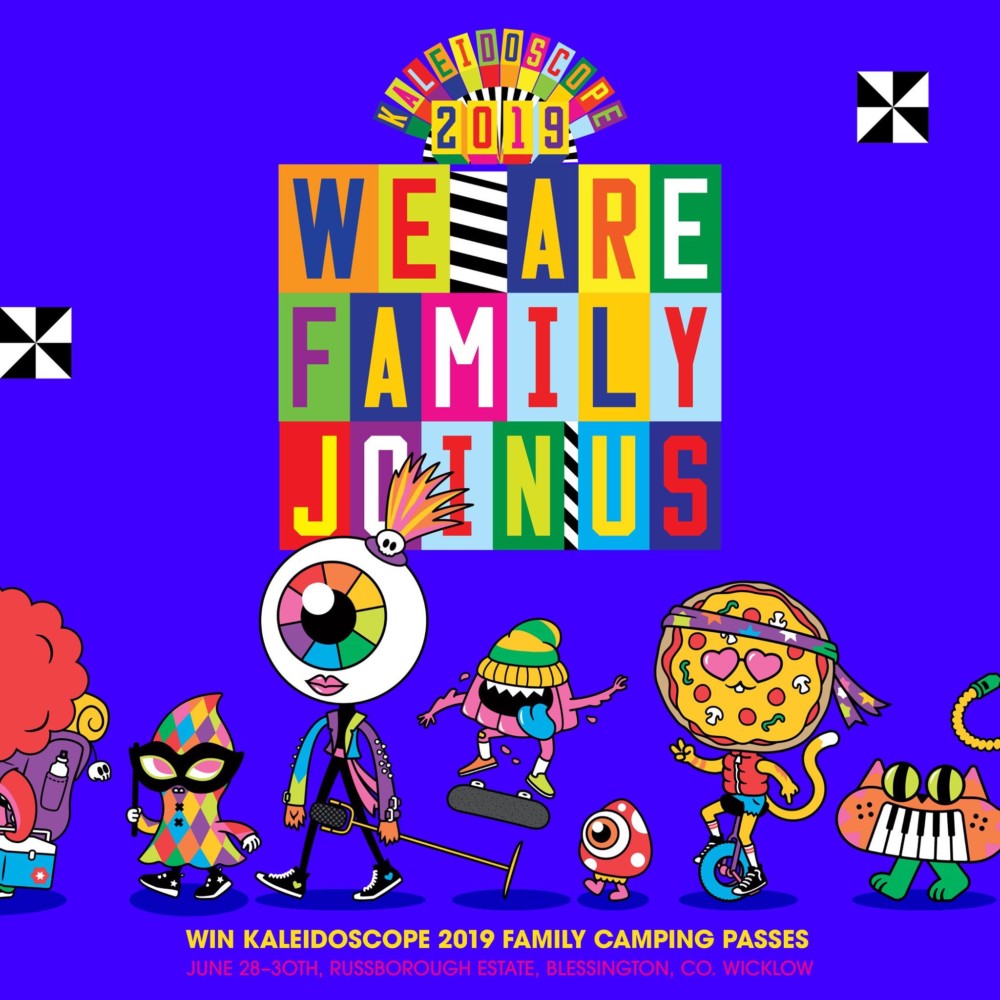 I was delighted to be part of the amazing line up for the family festival Kaleidoscope in Russborough House, Wicklow, June 28th- 30th. I led a My Naturama Nature Journal themed Nature Walk on the Saturday afternoon in the Wonderland section. We had a lovely little gang of explorers and drew some pictures, figured out the names of lots of flowers, and examined bugs close up with our pocket magnifiers. And guess what, I met Don Conroy!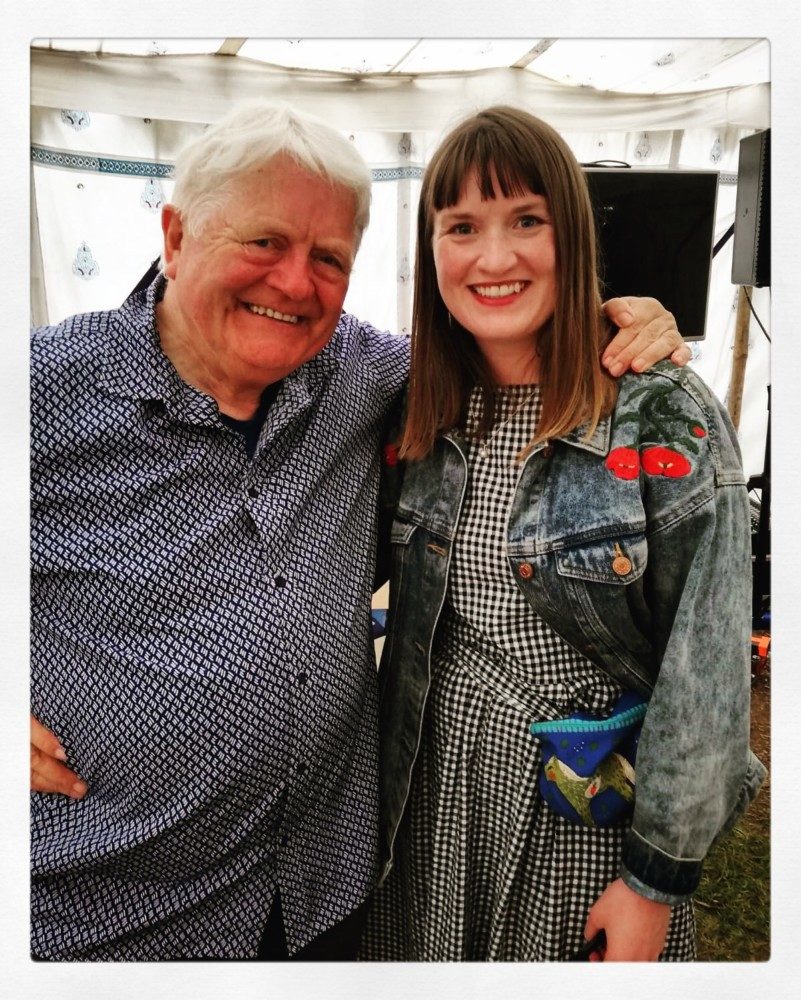 May 2019 – National Drawing Day in Navan
I spent National Drawing Day in the Solstice Arts Centre Navan drawing sounds and making sounds. See pics here.
September 2018 – Sea Monsters in the Lexicon Gallery Dun Laoghaire
I had a kids workshop all about making Sea Monsters  in the Lexicon Gallery Dun Laoghaire on September 29th as part of Sea-Change: IADT 21 years of art, film and animation.  I followed it with an adult printing workshop where we experimented with nature printing – printing seaweed that I had gathered at Seapoint beach, as well as some leaves and other natural objects.
August 2018 – Nature Drawing workshops for Heritage Week at Gorey Library, Wexford
The last time I was in Gorey I fell in love with the Wexford accent and wanted to smuggle all the kids home with me in the back of the car to Dublin. Luckily I didn't, which meant I got invited back again, this time for two wildlife art workshops on Saturday August 25th, as part of Heritage Week. I made loads of new friends and it turned out that foxes are still very popular amongst the Wexford youths! I brought along some paper cut outs of different animals, birds and insects and the children coloured them in and designed beautiful habitats for them to live in, see photos below for a tiny selection of the beautiful artwork created…more photos on Facebook here.
May 2018 – National Drawing Day at The Dock, Leitrim
I am doing a series of art workshops this year in The Dock in Leitrim – for schools, families and children of all ages. This on was for all ages to celebrate National Drawing Day on May 19th. The Dock is closed for renovations for the Summer but hopefully there'll be more on in the autumn.
My workshop was a drop in one and I spent the first hour with a group of adults and we did loads of experiments with portrait drawing and sometimes I had to do funny poses for everyone to draw. We drew with charcoal (on its own and taped to the end of a stick), feathers and ink, a double layer of markers, crayons, and later on with the kids we added collage too. One of the things the group did was draw me for one minute then pass it on for the next person to draw it for another minute and so on until everyone drew on each picture – it was really interesting the way they turned out!
For the second two hours I had mainly children and parents and we started with a game (that's wierdly called "equisite corpse"!) where one person secretly draws a head, the second person continues with a body (not seeing the head) and the third person draws the legs – resulting in a very funny portrait, then everyone drew each others portraits and played with the different materials….see photos to get a taste of it! Jessica Kelly had a really interesting "afterlife drawing" workshop upstairs (I've no photos of this one) and Wayne O Connor Illustration​ was in charge of the epic wall and floor art installation in the theatre space. More photos on Facebook here.
March 2018 – Welcome Spring Family workshop at The Dock arts centre, Leitrim
Finally the weather was improving so I had a little group in to welcome spring with some nature art! Family days in The Dock are really special as it's a lovely opportunity for parents and children to create something together. First we made leaf rubbings, as it's always good to have an easy warm up!  I had A3 sheets folded into little booklets and everyone drew out a little nature scene, some made it into a story. The idea of it being a book really triggered the imagination of some of the kids who made sequential art. It also broke the page down into bite sized pieces so it was easier to tackle. Press play on the video to see a flick through some of the beautiful creations.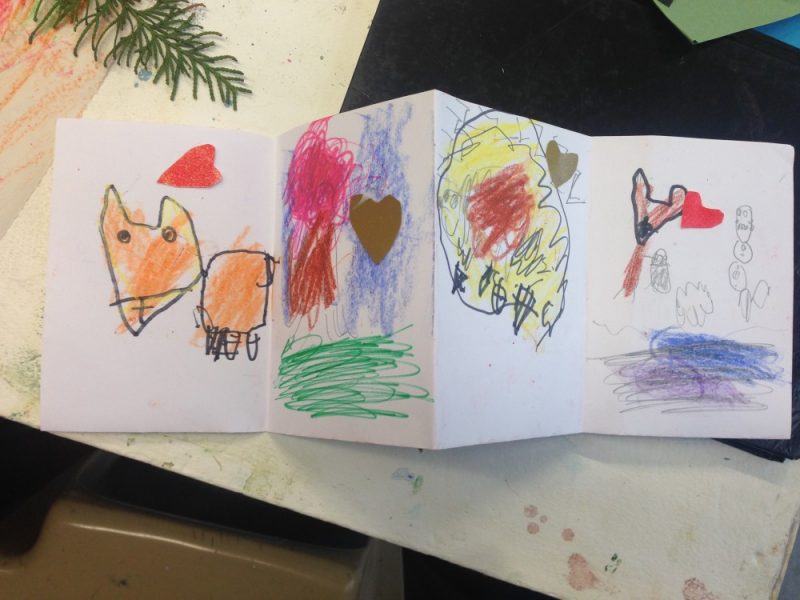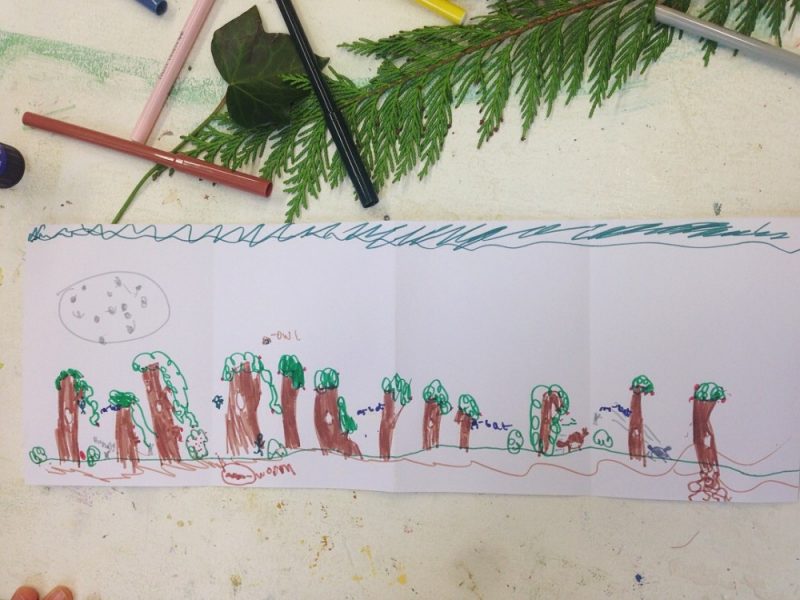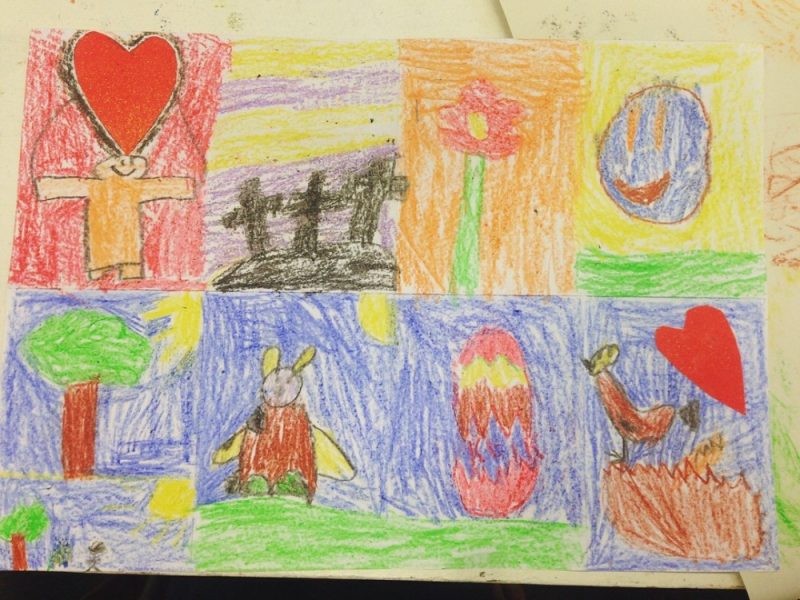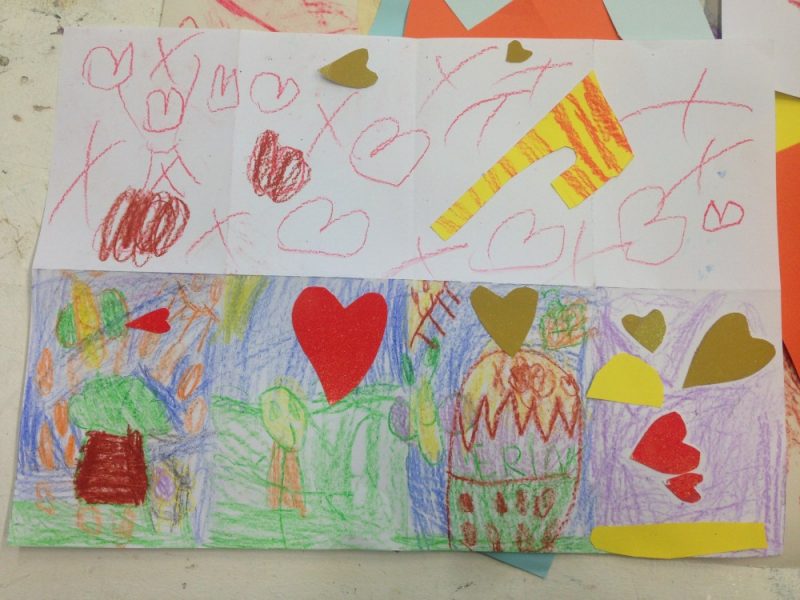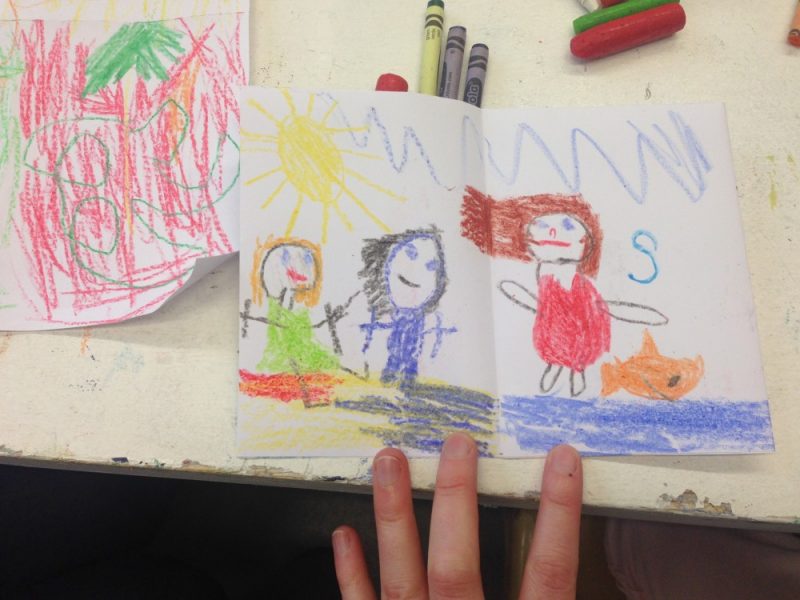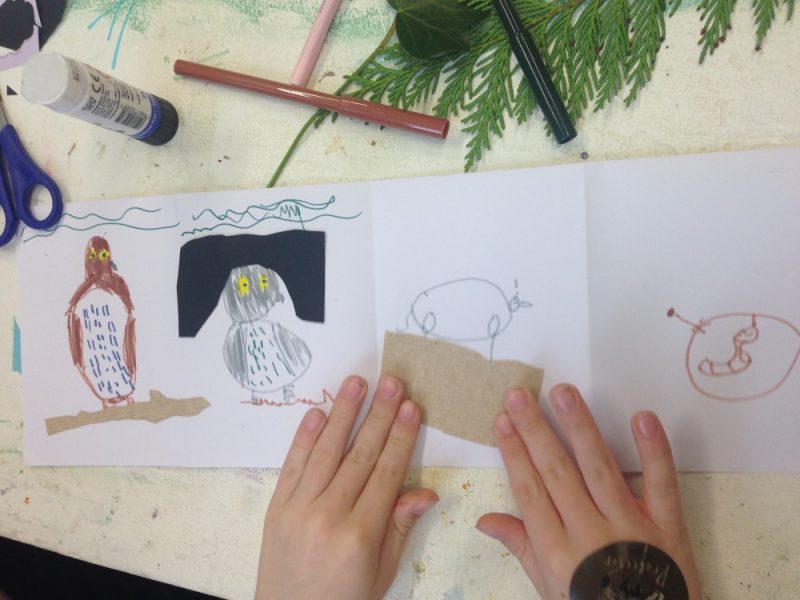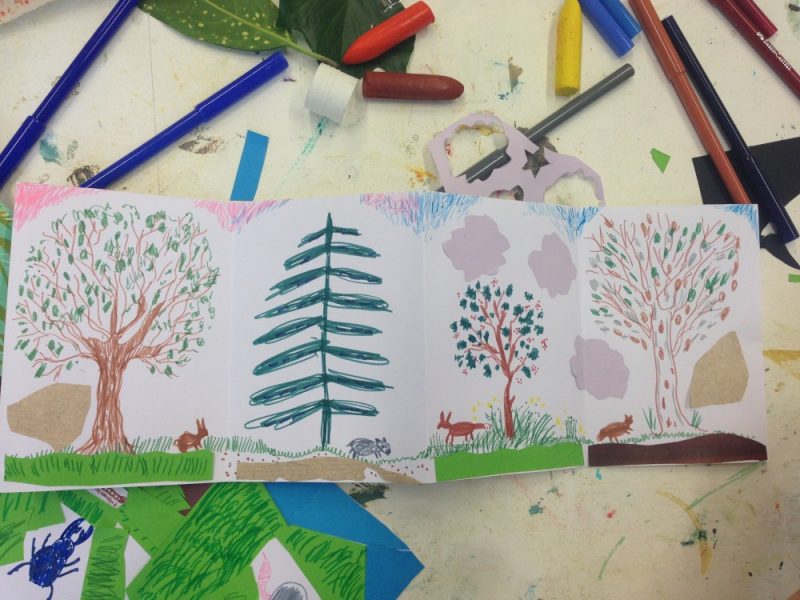 March 2018 – Nature Mobile Workshop with Scoil Mhuire at The Dock Arts Centre, Leitrim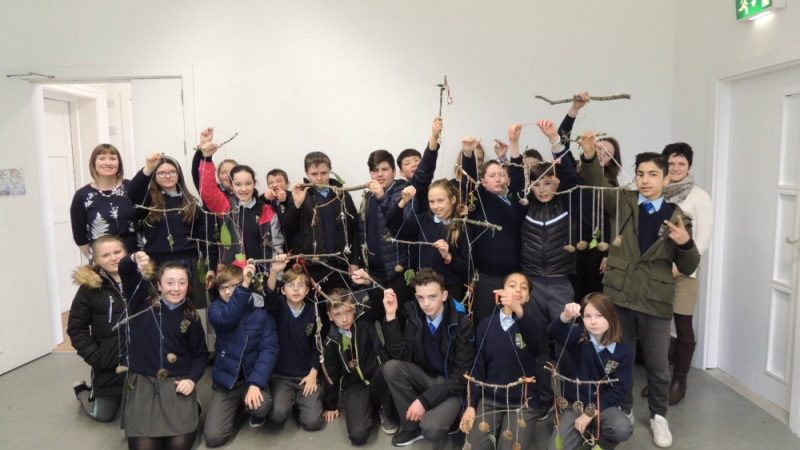 A lovely, enthusiastic, and friendly bunch of Leitrim 6th class children (and their teacher!) spent a morning with me making nature mobiles in The Dock. Everyone got had pine cones, leaves and some feathers to attach to a very beautiful stick with twine or ribbon. The task was to make a balanced mobile where the elements can each move freely. Once created, the students experimented further by combining their mobiles together using a bigger stick as the base. 
Everyone was allowed to pick their own materials so we spoke about the different types of sticks available The sticks were especially nice as most of them were freshly fallen following the recent snowy weather – some were smooth and budding (Ash tree) some were scaly (Scots pine) and the rest were Sycamore which had colourful lichen growing on it.
November 2017 – Nature Art Workshop with Stratford College and Stratford National School, Dublin
I had a brilliant morning with first class and then first year secondary school students at Stratford College/N.S. Nature art is great fun for all ages and everyone had lots to say about their favourite trees and wild animals. Here's some of the beautiful creations: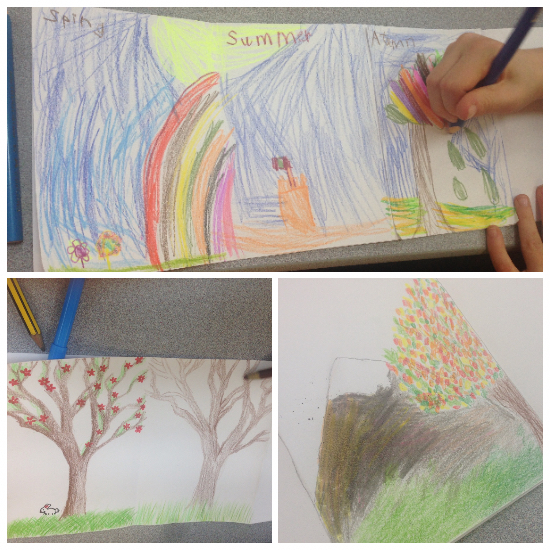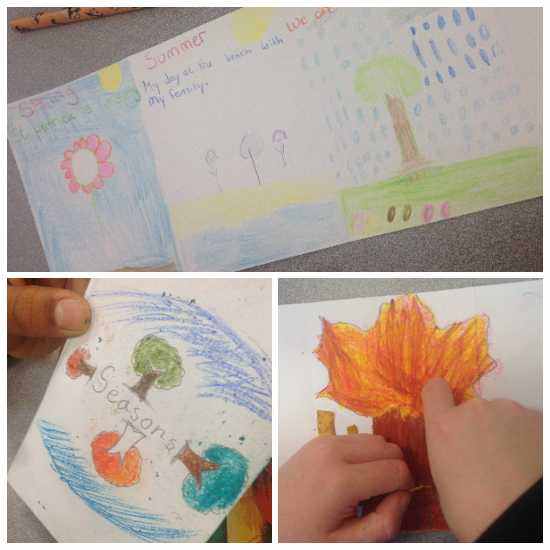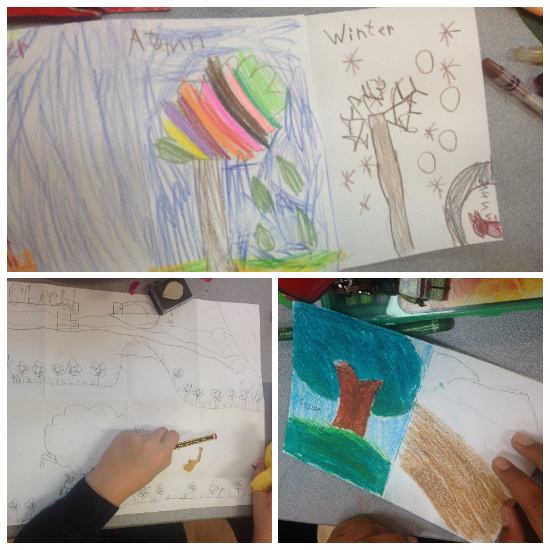 August 2017 – Nature Journal Workshop at Christ Church Cathedral as part of Heritage Week
The theme of this year's Heritage Week was "It's In Your Nature" and I was delighted to be invited to host a workshop for children in Dublin, all about making your own Nature Journal. We met in the vaults in Christ Church Cathedral and spent some time outside in the garden, looking at the wild flowers and the birds. Everyone got their own little notebook and I had customised the first page with a little illustration to colour in, each child getting a different picture and they could pick whichever one they wanted.
We made bark rubbings, identified the trees and birds, collected some grass and flower samples, then came back inside to draw trees. I had a lovely group of enthusiastic children and we had a fun couple of hours.
July 2017 – Wildflower sketch walk for Carlow Garden Festival for adults and children
Carlow Garden Festival has been running for about 15 years now and each year it's getting bigger and better! The headliner this year was Monty Don, who gave a sold out talk on the same evening I had my workshops. I had two groups on Friday 21st June, and a lot of the participants were total beginners. Our sketch walk was along the river Barrow in Leighlinbridge (the prettiest village ever) and we did loads of drawing exercises to get us going and help improve the observation skills! It was lovely to meet everyone, I got a very warm and homely welcome and made new friends. Here's a few pics but there's more on the Carlow Tourism Facebook page here.
June 2017 – Art Workshop for Children and Adults at Body & Soul Festival
I had a drop-in nature art workshop for adults and children on the Air Stage after my talk, in the forest at Body & Soul music festival – it was different to my other workshops because everyone was just having a wander so I would entice them in and see if they wanted to draw with me, which luckily enough they did! We focused on trees and leaves and did some cutting, drawing and colouring. Most people stayed and made art for between ten and twenty minutes before wandering off to the other fab workshops/installations in the same area.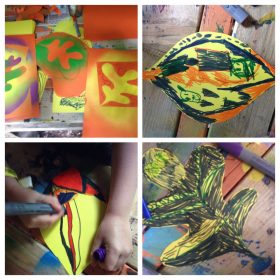 March 2017 – Dubray Books Blackrock – My Naturama Nature Journal Workshop
So now our new book is out, Michael Fewer and I had a nature drawing workshop in Dubray Books Blackrock with 30 children from St Andrews Primary School. We based the workshop on the "Draw your favourite tree" exercise from My Naturama Nature Journal. Everyone drew trees and we spoke about the environment and local wildlife. Michael brought along his amazing collection of seashells, a dead badger skull, and pressed leaves from exotic trees and we all had a big chat about trees. I think I got a photos of all of the drawings (fingers crossed!). Gorgeous trees! There's a few more photos here on Gill books Faceboook… and on my own Facebook page here.
Feb 2017 – Enniscorthy Library, Wexford – Reading Together Festival
I did a very special valentines workshop in Enniscorthy Library for little kids on February 14th as part of the "Reading Together" festival. Thanks a million to Caroline Busher, the Wexford Library Reader in Residence, for inviting me down. Thanks as well to John Busher for the photos.
I brought a box of glitter hearts and premade cards as a base for colouring in – my little gang of three and four year olds coloured in the inside, glued on the hearts at the front, and covered the rest with love heart stamps and glitter glue. The result – love bombs with 100% joy ready to give to mammy and daddy.
Nov 2016  – Sligo – Nature Drawing for Science Week
I spent a wonderful afternoon doing two nature drawing workshops for children on November 18th in Sligo town as part of Science Week. Here are some pictures – we drew lots of trees and talked about how great they are as habitats and what the world would be like if there was no trees.
Sept/Oct 2016  – Leitrim – Explore & Create
[space height="20″]
I led a six week (one evening a week) workshop called Explore & Create, in The Dock Arts Centre, Carrick on Shannon, Co Leitrim, for 8-12 year olds. The workshop were all about creating a funny little world as a group. We made new parts each week – forests, houses, animals, mountains, people and finally, monsters – all made up worlds need a few monsters. Take a look at the photos to see the wonderful creations!
Oct 2016  – Wexford – Nature Drawing at Gorey Library
I made a visit to Gorey Co Wexford, on Saturday October 1st for a nature drawing workshop for children in the library. We made drawings of forests and wild creatures and everyone had lots of stories to tell me all about the wildlife in Wexford! Here are some photos of the day:
August 2016 – Wild Words Children's Book Festival in Leitrim
[space height="20″]
The above videos are of my nature journals from when I was 11, please press play.
These are the personalised notebooks for the children to fill up with nature drawings and stick in leaves and feathers at our Nature Journal workshop for Wild Words.
[space height="20″]
I was invited to host some workshops along with Michael Fewer (writer of Naturama) in my hometown of Carrick on Shannon, Co Leitrim for the wonderful Wild Words Children's Book Festival last August 13th and 14th.
We had a Naturama inspired nature journal workshop for children on the Saturday.
We customised blank notebooks for every child before they arrived and they went on to fill them up with drawings and stuck in leaves and feathers. I also brought along my own nature journals from when I was small (see videos above). Once they got going there was no stopping them!
I was also extremely honoured to be the host of a Naturedoodle on the Sunday morning – see video for the result…50 children all at once was a bit daunting but they were all so well behaved and sat and drew away to their hearts content. My nieces and nephews came along to help over the weekend which made it even nicer!
[divider scroll_text="Photos from Wild Words Children's Book Festival 2016″]