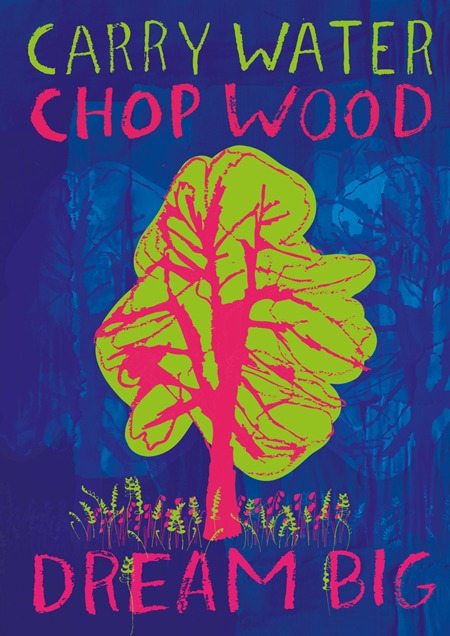 I was delighted to be asked by Guinness to make 20 limited edition prints for their Arthur Guinness Fund Graduates (2012). The AGF awardees  are social entrepreneurs and got funding and mentorship over the past two years. My print was going to be part of their goodbye gift.
I love affirmations and like having positive words and images around me when I'm working. So I started with an adaptation of a zen quote (original one was: "Before Enlightenment chop wood carry water, after Enlightenment, chop wood carry water) and turned it into "Carry Water/Chop Wood/Dream Big". I wanted it to be a reminder to keep going, keep working through the everyday issues and don't forget your big dream that made you set up your business in the first place.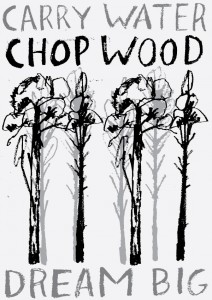 The image went through some variations at the start. I had a really cool, minimal version but it was too stylish and crisp. I wanted something with loads of heart and vibrancy so kept playing until I got the final version above.
I got them printed and box framed in the Copper House Gallery and I highly recommend them. They were so good they gave me a framed copy for myself as a little surprise. I have it hanging in my house and I love it. Here I am with Leszek Wolnik from the Copper House with my piece.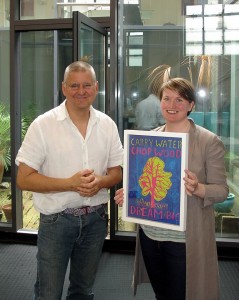 Related Reading:
Label Design Workshop with Steve Simpson
Hand Lettering and Design – Workshop with Steve Simpson
Pattern Observer webinar: The Importance of Developing Collections